Property photos taken with feet flat on the ground can mean promising real estate sales flatline. Aerial Drone Real Estate Photography brings out a listing's full potential, grabbing potential buyer's eyes — and interest — with a unique perspective.
Empty lots are hard to visualise with a shot of some grass and overgrown trees, but a bird's eye view can trigger dreams of the land's true potential. Aerial real estate photography displays a property's shape, curves and features like a photo of a sexy sports car, making it easier to visual that blank slate as a new construction.
Ground level shots often just don't show a high-end listing's full beauty. The building's different levels, layout, and seamless integration with the surrounding property are much more apparent from the sky than from the sidewalk.
Studies show that high-quality real estate photography brings more potential buyers through the door, resulting in higher offers and even larger list prices from the start. Drone real estate photography takes that potential to the max with views unlike any other listing on the market.
Why drone real estate photography?
Snapping a bird's eye view isn't a new concept — but rather a newly accessible idea. Drones allow for that aerial view without the expense of a private plane, the limitations of pole cameras or the time to set up a camera crane.
Drone real estate photography takes advantage of the advances in technology allowing mini aerial vehicles to be controlled from the ground. Quadcopters simplify the flight process, making it possible to capture aerial images with little notice.
A drone's smaller profile allows it to safely access areas off-limits to an airplane. Drones for real estate photography are incredible tools for showing potential buyers the building's roof conditions, the layout of the property and much more.
Why choose Visionair for aerial real estate photography?
Drones create exciting new possibilities — but if they're not used properly, that potential turns into a potential for disaster. Visionair uses both a veteran photographer for optimal image quality and a certified drone pilot for safe, stable shots.
Visionair's photographers ensure that the bird's eye view isn't the only thing amazing about the imagery, ensuring a proper exposure, sharp details and creative flair. Our drone pilots, meanwhile, are CASA certified and meet all the Australian licensing requirements — ensuring safety while accessing the most creative angles to display the property's true value.
While drones create exciting possibilities, all drones are not created equal. Most aren't steady enough to hold much more than a GoPro. At Visionair, we wanted our aerial real estate photography to match pixel for pixel the quality of our studio shots taken with the latest DSLRs — which is why we invested in the same heavy-duty quadcopters Hollywood filmmakers rely on as our drones for real estate photography.
Visionair's aerial drone real estate photography clients get the same quality as our studio customers because we use a Canon DSLR mounted on that heavy-duty drone. That allows us to capture high resolution stills and impressive 4K video not possible with smaller cameras and quad copters.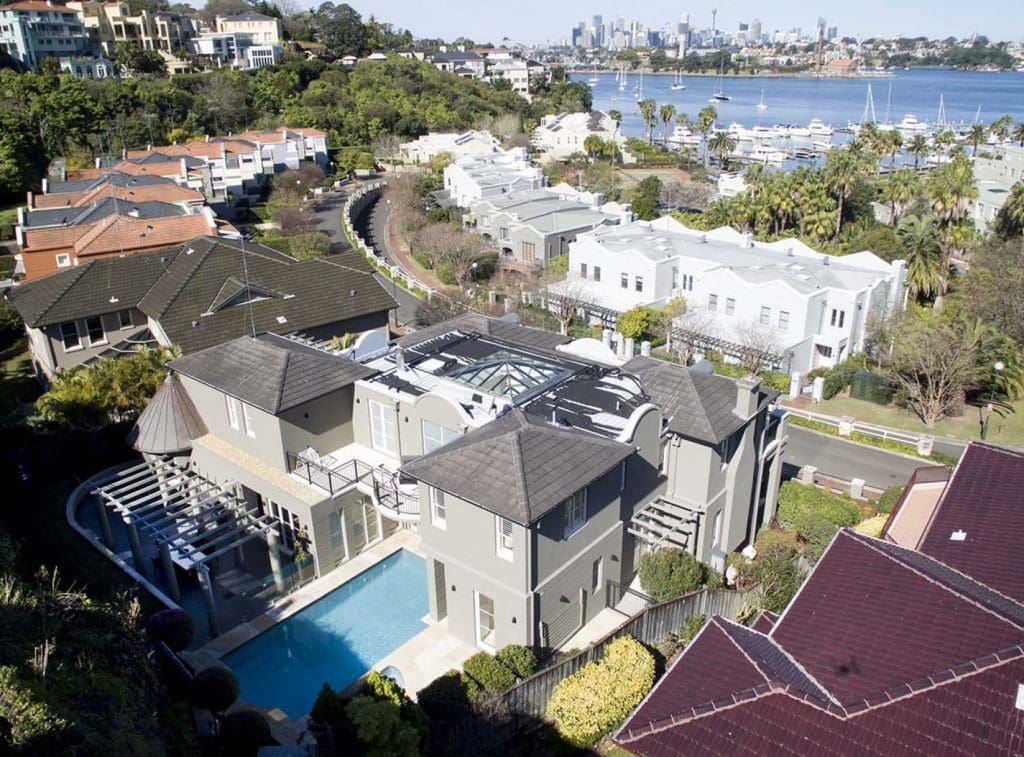 As a large company specialising in all types of commercial photography, Visionair has the staff, gear and know-how to help your listing take flight. And thanks to new drone technology replacing jet fuel with batteries and fully-fledged airplanes with miniature helicopters, booking an aerial real estate photography package with VisionAir is less expensive than you might think.
Visionair stands out with high-end drone real estate photography in the Sydney and NSW region that few are able to achieve.
LET YOUR LISTING SOAR
Greater Sydney Homes Photographed for only $690 + GST
What to expect with drone real estate photography from Visionair
At Visionair, we love the challenge of creating exceptional, creative images from the air — but we know that most of our clients are a little lost on exactly what that entails. When you call to set up a drone real estate shoot, we'll chat about your goals for the shoot and set up a date. Our photographer and drone pilot will arrive, plan out the shoot and take flight. You'll receive the fully edited stills — or even video footage — within just a few business days, allowing you to expand your listing's potential on a short timeframe. VisionAir can even help by uploading the shots to your website and social media pages.
With VisionAir, your real estate listing will soar with:
Quick same-week turnaround to get properties listed faster
Professional, certified drone pilots and veteran commercial photographers
Exceptional stills and video from the latest DSLRs and high-end drones for real estate photography
Affordable imaging that helps realtors bring in the highest offers
Creative shots to show off a property's best features — and technical photos boosting buyer confidence with visual evidence of the home's condition
The best property highlights? Come from the highest angles. Take your real estate listing to new heights with the professional, experienced team bringing exceptional aerial photography to Sydney and the NSW regions: Visionair.