Are you shooting your next video marketing campaign anytime soon? Maximise your impact by creating a bespoke yet effective storyboard for your project. Storyboarding is an essential requirement of the storytelling process. Storytelling is a definite way a marketer can anchor in consumers with brand communications. Stories that resonate with your target market can be extremely powerful. Amplify your next video marketing communications by crafting a quality storyboard.
What is a Storyboard Marketing?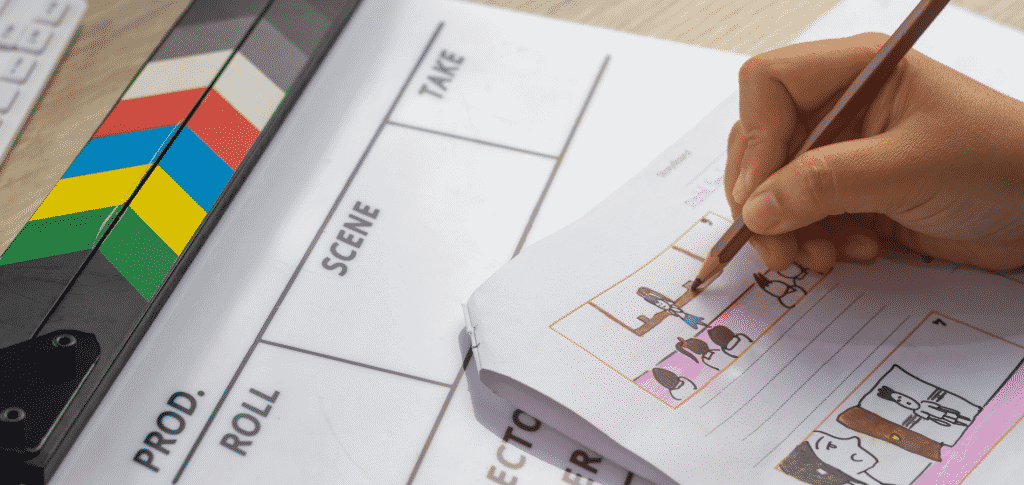 A storyboard is a planning tool which is designed in the pre-production stage. It is used in videography production or visual story telling. Essentially, it is graphical/text narrative that is sectioned into frames, depicting the flow of a storyline in a production. The purpose of a story board is not only to assist the director and crew in the actual production, but it is also there to ensure all communication objectives are met.
Storyboarding is an integral part of the marketing process as marketers gain the opportunity to strategically plan their campaign. In this process, you can strategically place stimuli in your storyboard to invoke thought. Stimuli(s) are any materials or items which are placed in front of a respondent to prompt a response. Importantly, a stimulus could act as a call to action or instil a thought in your target group however, this should be planned before the production stage through a storyboard.
Evaluating your Marketing Strategy
If you plan to amplify your marketing with effective storytelling, the first place is to start with your marketing strategy. Review your marketing strategy accordingly and identify your consumer target. You should create market 'persona' – this is your target market profile. Identify the habits, the values, and the purchasing patterns of this group, if you have not already. Additionally, you should note down some of the key selling points to your product or service, things that resonate with your target and/or prompt a response.
Communication Strategy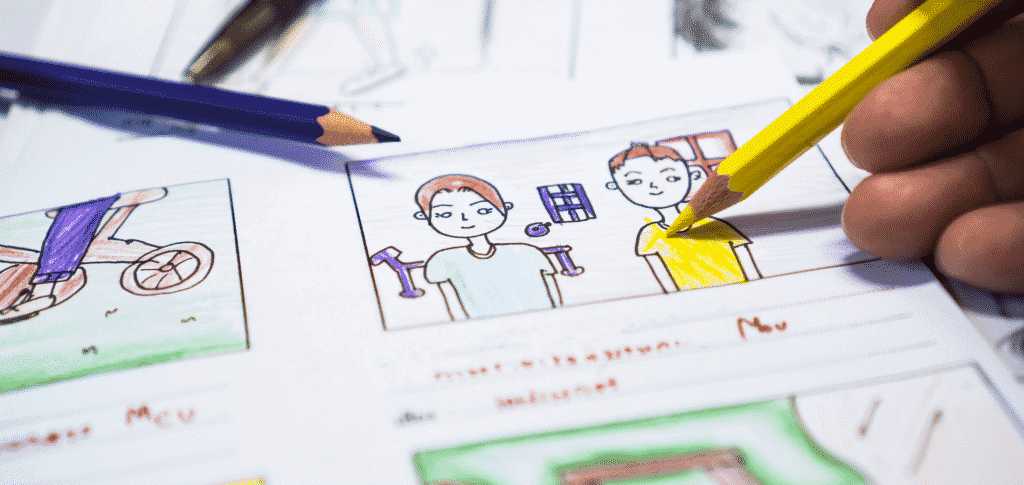 Once you have evaluated your marketing strategy and you have obtained a strong foundation of who you target is and their identity, you should reflect on your communication strategy. Consider where you will be placing your video campaign. All forums are not created equally, some platforms work best with different types of consumers. You should also consider the duration of your campaign; certain social media platforms may favour longer content and others may restrict content.
Designing a Storyline
Once you have a good overview of your target market and communication strategy, you can newly develop a completing storyline. Whether you want to create a promotional video or corporate video, you should aim to ensure your video has a sense of purpose. Aim to appeal to the viewers emotions, invoke thought and introduce characters. Another great way of developing a storyline is by brainstorming with your team. Unique and authentic storylines are always effective.
Designing an Effective Storyboard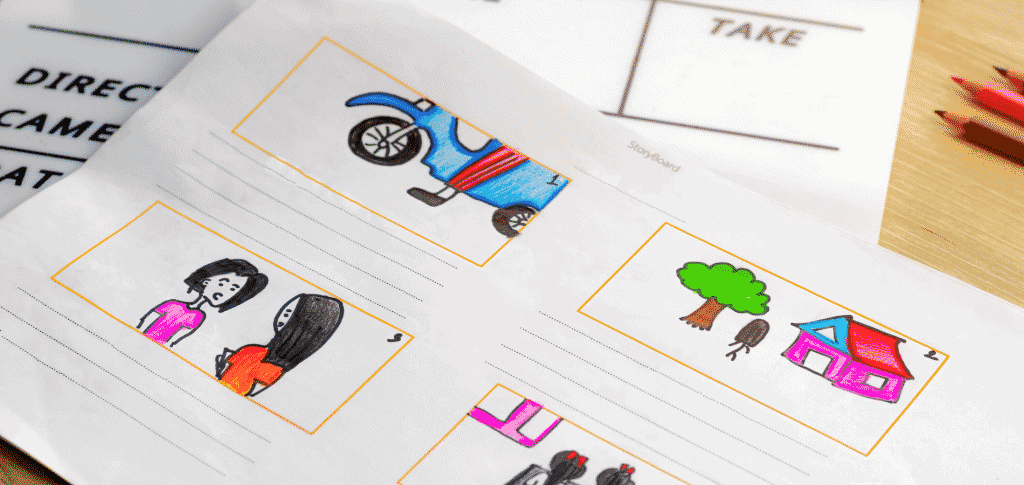 An effective storyboard is one which is clearly communicates a storyline. There are multiple ways of creating a storyboard with graphics and text. One way of attacking the task is by creating a double table column with multiple rows. The rows should contain ample room for graphics and text. One column should be dedicated to visuals and the other should be dedicating to the script. The first row should start the sequence of your storyline and it should progress in a sequence.
In the first column named 'Visuals' should illustrate how the scene pans out visually. In this section, with the help of your producer, you can start allocating specific shots of camera angles to help communicate your storyline. If you are having trouble drawing visuals, you can simply write your thoughts down, as long as your camera operator has a clear understanding of angles of each scene. In the 'Scripting' section, this is where you write down the actual script, the actions depicted in the story line and any special effects. This is the perfect opportunity, to refer to stimuli, call-to-action shots, or any information that will help your marketing strategy.
Our Tips to Storyboard Marketing and Effective Communications
Most video marketing strategies are different, therefore you may need to cater your approach to your storyboard objectives. However, here are our general tips to creating a storyboard that will amplify your video marketing communications.
Use Powerful or Memorable Content
This one of the most effective way to communicate. It's fundamentally important that your strategy is engaging and can cut through the clutter. Take a point of difference and aim to be unique.
Be Strategic
Be strategic with all you do by creating content that is capable of resonating with your target market – have a sense of purpose and add value through identifying the values of your audience.
Clarity
Communicate with clarity – make it simple and painfully clear. This starts with your message and should be translated in storyboard.
Planning
Planning is crucial – create a framework and goals. Developing an action plan with details steps is a good place to start.
Consistency
Repetition is a key to effective communication. Consistency reinforces key messaging in the mind of your audience.
Keep it Simple
Do not overly complicate the strategy – remember to communicate key messages not every message. You only have three seconds to grab your audience's attention.
Online Resources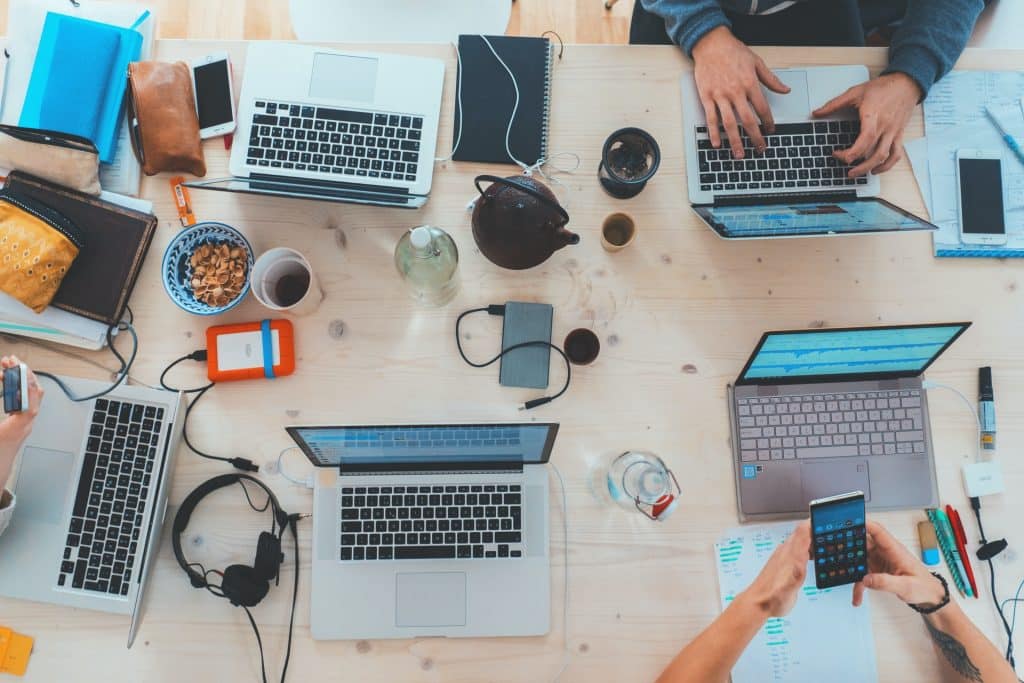 Using online sources can help you effectively managing your video marketing project. There are ample online resources that can help you create your storyboards using templates whilst integrating Microsoft Word, Photoshop and more. These programs can make storyboarding process a lot easier, so all you have to worry about is your communications strategy and incorporating the right stimuli in your next video marketing campaign.
Download our storyboard template – it will help you get on your journey to creating that perfect storyboard.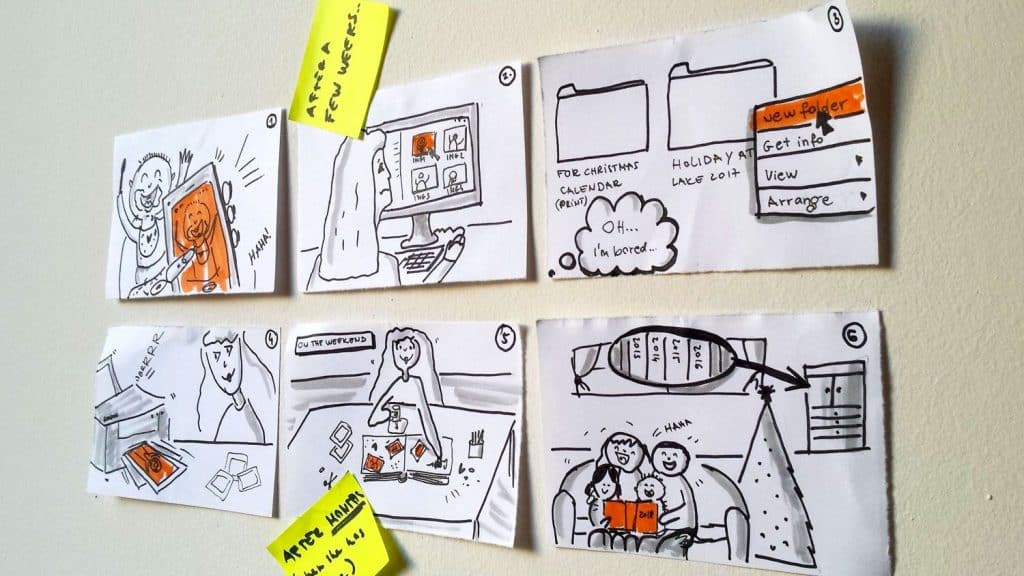 Looking for more information on video production, see our article on 'How is a video produced'