SUPAGAS NATIONAL TVC CAMAPIGN
WHERE'S ME GAS BOTTLE GREG!
SUPAGAS TV COMMERICAL
"WHERE'S ME GAS BOTTLE GREG?"
SupaGas is Australia's leading LPG and gas bottle supplier serving the domestic, commercial and hospitality market. As the seasons start to get colder, SupaGas wanted to produce a 15-second TV commercial for national free-to-air television campaign to promote the great discounts on home gas and BBQ bottle deliveries with no locked in contracts and 24-months fixed pricing.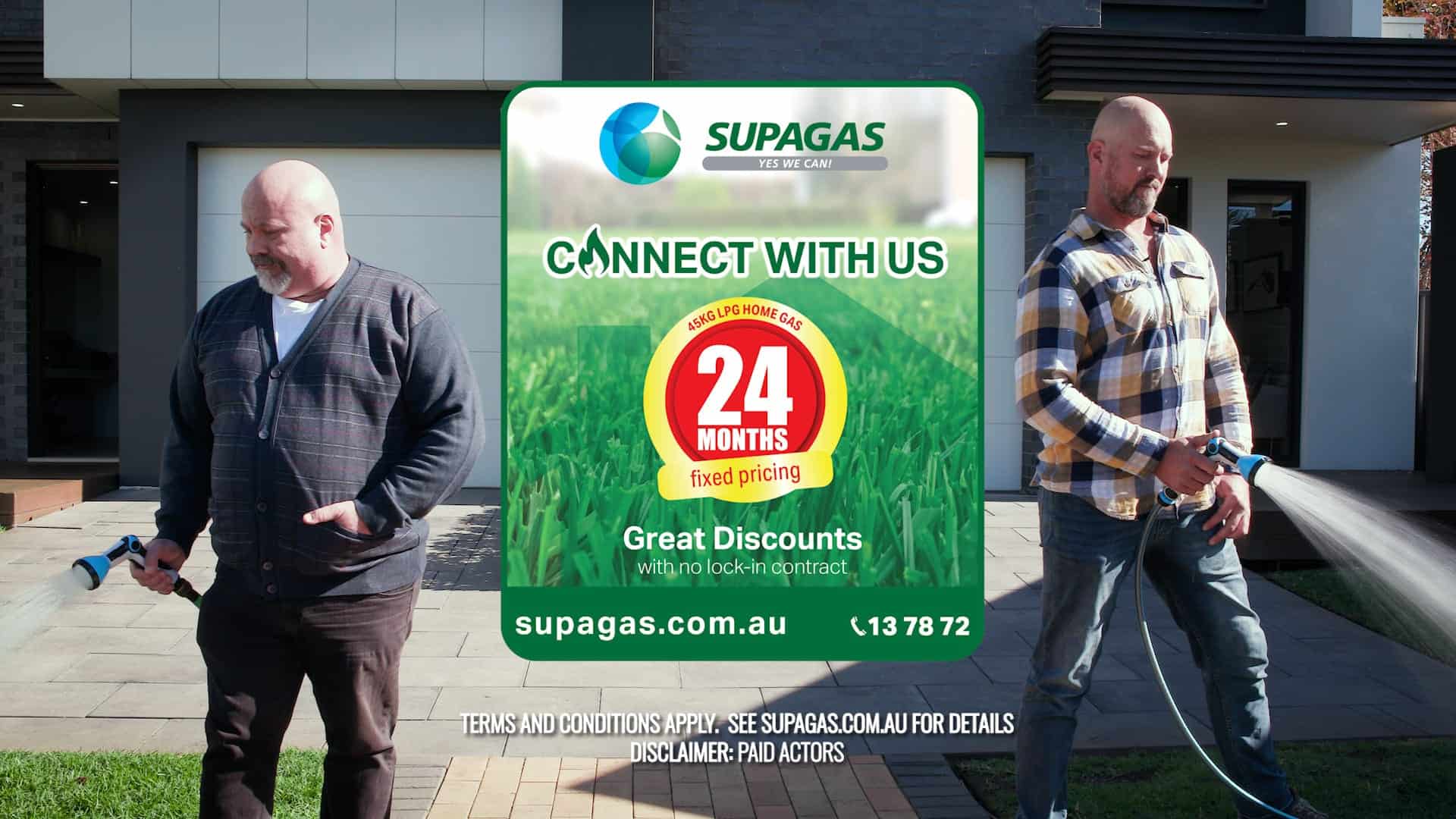 THE PRODUCTION
Working closely together as a team Visionair Media and SupaGas created a storyboard in a joint effort to launch the TVC campaign for viewers to enjoy. After a few tweaks in the vision, the final concept was based around two neighbours chatting away while watering their front gardens. One neighbour, the SupaGas neighbour, receives his homes gas delivery along with a gas BBQ bottle delivery. Amazed with the convenience, the other neighbour 'Greg', was super intrigued with the exchange and asked his neighbor about his gas delivery.
The SupaGas neighbour/customer was happy to let his neighbor know about the great deal he receiving as a customer of SupaGas. Out of the blue, Greg's wife pokes her head out of the front door and hysterically screams out in a bathrobe to Greg, 'Where's me Gas Bottle Greg!?!', as she patiently waits for her gas while she was getting ready in the morning. Invoking humor is an excellent way to create a memorable moment. Aussies are a humor receptive and we believe this TVC hit the mark.
The Visionair Media team work together with SupgaGas to create a vision and strategy. We were able to design and execute core components of the TVC, pre-production, at the production stage and post-production. Once the TVC was finalised, Visionair ran the commercial through the classification process, ready for distribution.
The SupaGas – "Connect with Us" TVC (TV Commercial) is currently being broadcasted nationally in free-to-air television on NBN TV, Southern Cross HD, Nine in metropolitan and regional areas.
The Final Product
15 Second TV Commercial
30 Second Commercial
Billboard TV Commercial
Days Script Writting and Planning
Number of Videos Produced
SOME BEHIND THE SCENES IMAGES
Interested In Working With Us?