Australia is full of iconic locations and venues. Melbourne is one of these locations where tourists and locals alike adorn its laneways, cafes, trams, shows and sporting venues. So if you are an Australian brand, have you may like to consider aligning yourself with a city that has been voted as the most liveable in the world several times over?
In this article, we will showcase some of the standout and hidden scenes you should explore when thinking about filming your next brand story or video production. The City of Melbourne itself is very open to film permits so with a diverse backdrop, all that you will require is a creative idea. Together with Melbourne as a backdrop, our team can create a symbiotic script to help bring your idea to life. Here are some locations to get your creative juices going:
Federation Square
The architecture in this open space in the heart of Melbourne lends itself to a maze of steps and people. The urban scene is well known for community gatherings and iconic buildings. So if you have a brand which reflects urban lifestyle or people meeting then using such a place could be the right choice for your next set. Just ensure you buy a coffee from the local cafe as they are known for a fantastic brew.
Royal Botanical Gardens
The Royal Botanical Gardens are an undiscovered gem. Lush green lawns and towering trees form an isolated oasis in the city. In spring flowers bloom vibrant colours and always lend themselves to beautiful backdrops. If fashion is your thing, then Melbourne's best-known garden is an opportunity waiting.
Queen Victoria Markets
The markets in Melbourne bring tourists, locals and market vendors under one roof. During the evenings, the markets are buzzing with excitement and action. The fresh scents of cooking and the visual stimuli of food blend here, making it an ideal location to shoot any food-related products. Nothing says 'local' more than Melbourne's iconic market.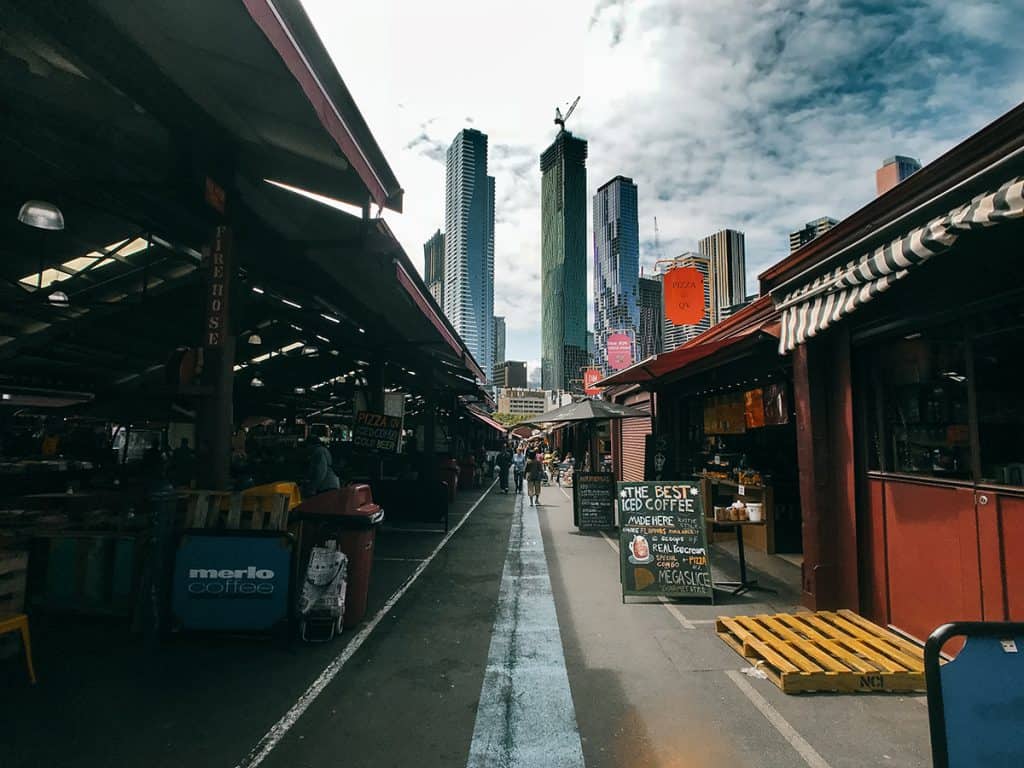 The Yarra River
The Yarra River runs along Melbourne's CBD and Southbank district. While boat access can be difficult due to the low lying bridges, our team can make it a possibility if you require a floating set. Imagine showcasing your Australian product with an iconic backdrop of Melbourne? Do we need to say more?
Melbourne's Cafes Scene
If ambience is what you are after, then Melbourne has an abundance of it! Almost every laneway is crammed with award-winning cafes. It's hard to find a bad one. These public or private sets can be an untapped opportunity to showcase your product in a relatable way. Almost everyone is familiar with the local cafe, so if you want to build trust quickly with your brand or product, then filming at an iconic eatery should be on your list.
Luna Park
Sydney has Luna Park also, but Melbourne's is better. Why is this? Well, put simply it's right next to the beach. The historic park lends itself to much laughter and fun. With a rollercoaster, amusements and plenty of people, there's undoubtedly an opportunity for a brand to showcase a product in an open, friendly environment.
The Old Melbourne Gaol
Every iconic city wouldn't be complete without a historic gaol. Built-in the mid-1800s the building lends itself is worth exploring if you are after a background or set that's a little different. Melbourne's Gaol hosts night tours and even concerts so accommodating a film crew shouldn't be a problem. Just ensure that you apply for a permit and bring enough lights to shoot at night as the place can be quite dark to navigate.
Hosier Lane
You may have heard about Hosier Lane before. Colourful and artistic are generally the first two words people think of when deciding to visit the iconic graffiti lined walls. Many films and commercials have been shot in this part of the city. When you are there, it is easy to see why. The chaos of colourful paint lends itself to express creativity, individualism and independence. If you decide to film here, ensure you think about crowd control on set as this place is a tourism mecca.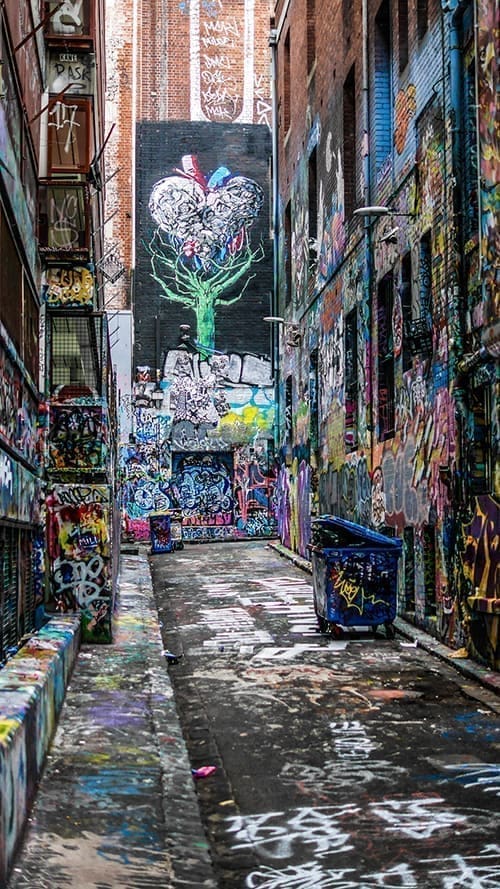 Melbourne's Iconic Trams
Crisscrossing the City of Melbourne is a network of iconic and historic trams. Commuters utilise the system for all means of daily transportation. Whether it is going to work, visiting friends or travelling to see their local team play, the tram network is recognised by all Australians. With that said, have you ever considered filming on a tram? Did you even know Melbourne has a restaurant tram? If your business is into food, then how about utilising this iconic transport to reach a target audience?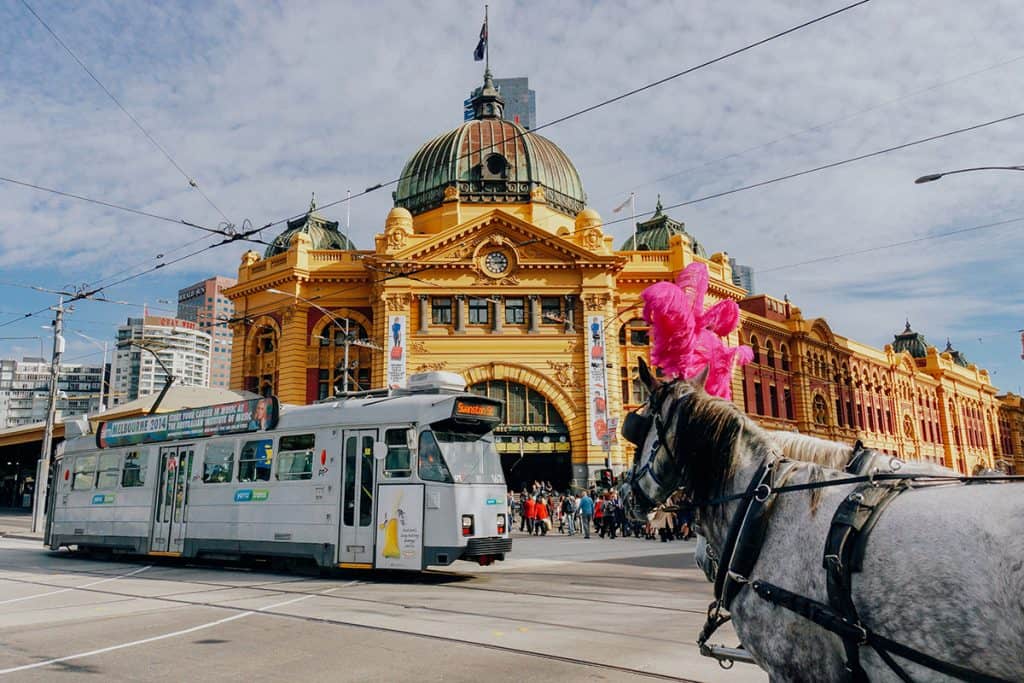 Melbourne Star Observation Wheel
If you are looking for a location with a view, then Melbourne's Star Observation Wheel could be an ideal place to film your next TVC or brand story. At night the ginormous wheel comes to life, lighting up the night sky giving riders a unique view of the architectural skyline. The experience creates an almost romantic look of Melbourne.