Drone Photography Inspections
Drone Photography Inspections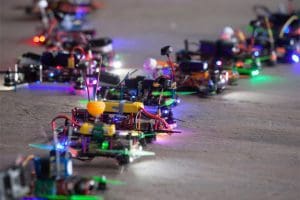 Australia has always been prone to wild weather and, with the effects of climate change becoming more evident the regularity of these phenomena will only increase. Sydney certainly has its fair share of extreme meteorological conditions and this was illustrated recently with a series of wild storms that caused significant damage throughout the city.
The extent of the damage done to houses, infrastructure and commercial properties in such storms can be difficult to identify at ground level and creates a potential safety risk. Visionair drone photography in Sydney, however, offers aerial solutions. When captured from a drone, images are taken from new, more illuminating perspectives, enabling you to easily assess damage and identify hazards.
To illustrate this, Visionair, the specialists at drone photography in NSW, captured some of the damage inflicted by the hailstorm of April 25 on a warehouse in the Western suburbs. The vast space is impossible to capture in its entirety at ground level, as are elements such as rooftops, skylights or smoke stacks. Aerial photography however, enables these and other views and Visionair are the experts at delivering this footage.
Following a storm or other extreme weather event, it might be necessary to carry out a similar inspection using drone photography in Sydney. In utilising an aerial perspective, Visionair can capture otherwise impossible footage to greatly assist you in repairs, rebuilds, salvage operations or demolitions.
An inspection needn't follow an extreme event though. An increasing number of businesses with expensive infrastructure carry out routine preventative inspections in order to identify potential issues, reducing risk and saving money in the long term.
Whether you require regular inspections or a one-off aerial photography reconnaissance, Visionair have all the relevant expertise and technical skill. The drones we use on all assignments are at the forefront of the technology, as is all our camera equipment, ensuring you get high-resolution drone photos in Sydney.
The pilots and photographers working for Visionair complement the technology with their experience, intimate knowledge of the equipment and attention to detail. Combining talented staff and state of the art technology is what sets us apart from others in this new and exciting industry.
The recent storms have illustrated the need for detailed and comprehensive inspections to maximise safety and minimise damage. Drone photography in Sydney is the best way to achieve this and Visionair are the best operators of such a service. View our footage taken shortly after the hailstorm here.