While many Australians flock to the internet for entertainment purposes, there are still millions of viewers watching free-to-air TV. And who can blame them? Stations are still pumping out great binge worthy TV, from the Bachelor, Big Brother, MasterChef to 60 Minutes and more! Aussies are still tunning in, and television commercials are still more powerful than ever. This is why, it is so important to create a killer TV commercial for the next TV campaign.
Advertising by way of a television commercial in Australia is a potent way of hitting brand awareness objectives and sales targets. Producing an effective TVC campaign can be great success but this is reliant on your approach. At Visionair Media, we are video production specialists and we believe the best approach to producing a TV commercial lies on being 'Memorable'.
The Research
Creating a killer TV commercial starts with research. Screen Australia is a wonderful source of information for your campaign project. Important research conducted by Roy Morgan Research and published by Screen Australia examines the psychographics of Australian's who watched free-to-air TV. The consumer segments called 'value segments' were broken into groups based on lifestyle, behaviour attitudes and values.
Value Segments
A Fairer Deal: People in this segment, which is usually associated with unskilled and semi-skilled workers, are more likely than others to experience unemployment and financial insecurity and subsequent family pressures. This can create a feeling that they are getting 'a raw deal' out of life.
Basic Needs: Usually associated with retirees, pensioners or people living on social security payments, this group is focused on the day-to-day business of getting by. Features of this segment include a desire for security and order and a strong sense of community.
Conventional Family Life: Most closely associated with suburban families. People in this group devote their time and effort to family and their home – either building one or striving to improve it – although they also take an interest in their local community.
Look at Me: Younger, socially active, peer-driven people who are highly conscious of image and fashion. Characterised by short-term thinking, their behaviour tends to be hedonistic and rebellious, with a focus on fun and freedom.
Real Conservatism: Usually mature people who hold conservative social, moral and ethical values, they seek a disciplined, ordered society that is safe and predictable. They tend to be asset rich and income poor. Often associated with regional areas.
Socially Aware: Community minded and socially active, people in this group have a strong sense of social responsibility. Always looking for something new and different, they seek out information and knowledge and tend to be early adopters and influencers.
Something Better: Everything is comparative to people in this group, who are competitive, ambitious and concerned about status and image and often extend their budget in order to demonstrate their success to others.
Traditional Family Life: Generally aged 50-plus with grown children, this group is the older counterpart of the Conventional Family Life segment and is motivated by similar values in terms of security, reliability and providing better opportunities for their families.
Visible Achievement: These people enjoy the tangible rewards of their success but, confident and individualistic, they do not feel the need to impress others. Practical and realistic, they seek quality and value for money. They retain traditional values about home, work and society and take a direct interest in public affairs.
Young Optimism: Associated with optimism, ambition and idealism, people in this group want to experience life – travel, career, friends, family, sport and social activity – and believe they can have it all. Usually students and young professionals, they are innovative and interested in technology.
Source: Roy Morgan Research & Screen Australia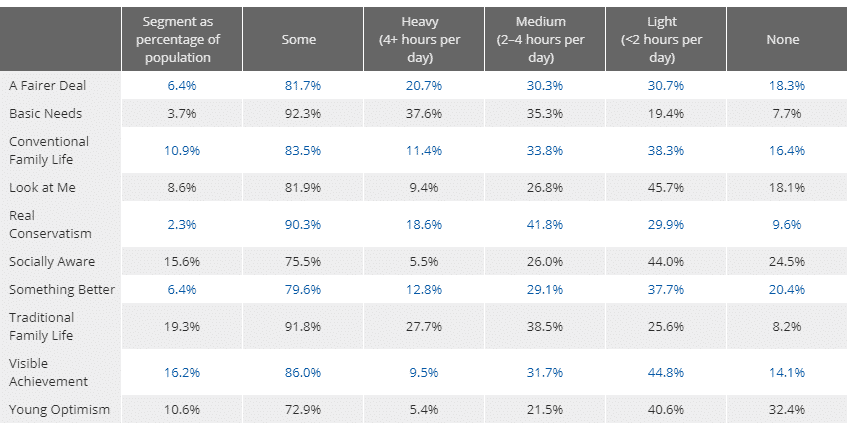 Analysing the data, as a marketer you can help you design a campaign that resonates with a particular 'value segment'. Your next TV commercial can contain certain themes that sway certain groups. These certain themes can be developed in the scripting and planning stage, strategically designed in the pre-production stage. Our video production services can assist you with the implementation of certain themes in the creative processes reinforce the connection between your brand, the tv commercial and the consumer.
Something Memorable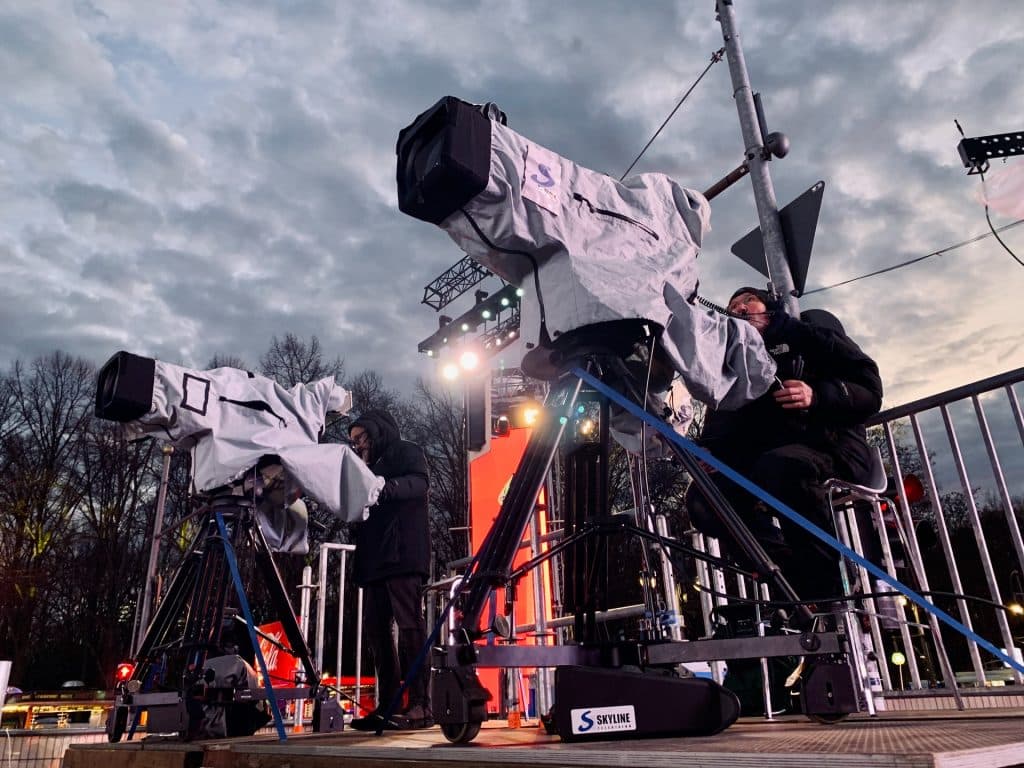 One of our tips in creating a killer tv commercial is creating something 'memorable'. Consumers are overloaded with marketing communications. Video producers and marketing teams should create campaigns that are memorable. This can be created through visually stimulating content and storytelling at a minimum. Keep to a narrative that resonates with your audience. One of the most memorable traits is using 'humour'. Television commercials that contain humour, are likely to leave a lasting impression. Aussies are receptive to humour. Using humour can be extremely successful as seen in these iconic advertisements on free-to-air TV such as:
Incorporating something memorable can come from the themes you use in your tv commercial or in the scripting of your campaign. Every killer TVC has an 'ah-ha' moment. This is the point of climax and is generally what your viewers remember. Remember, generally, more is less. An 'ah-ha' moment on a television commercial is a moment that cuts through the clutter and speaks for itself. In finding your memorable 'ah-ha' moment, do not forget your brand ethos and values. Be strategic with your implementation but do not stray away from your brand values as this may come off as 'gimmicky'. Your TV commercial needs to make sense.
Ethics, Legal and Compliance
Free-to-air television commercials are regulated in Australia by various quasi-judicial bodies and authorities. As a general industry standard, TVC's need a mandatory compliance review to ensure that your campaign does not breach any laws, industry standards or codes. Some common aspects that need consideration is the application of the Australian Consumer Law – in particular, misleading and deceptive conduct – is your TVC likely to mislead or deceive. Additionally, does your project infringe on another person's/party's intellectual property – you should consider potential intellectual property issues. Consumers have the right to lodge advertising complaints with relevant state bodies, the Australian Competition and Consumer Commission and Ad Standards. It is best practice to ensure your advertisement is reviewed by a professional to eliminate potential legal issues. Australian classification authority ClearAds has published the 'ClearAds Handbook' which can be a comprehensive guide to compliance and classification.  Don't kill your killer TVC before it goes to air, ensure you cover all bases!
Broadcasting and Technical Specifications
Before you TV commercial is broadcasted in Australia, your TVC must run through a multiple compliance stages before it is live on air. Importantly, you need a distribution strategy to plan and distribute your TV commercial. Generally, free-to-air TVCs are 15 or 30 seconds long. Once you have produced your final edit, your television commercial should be lodged with the classifications board. Once approved your TVC is assigned a unique 13-digit code which will be used to identify the commercial. From here, your TV commercial is ready for distribution! Your audience can now enjoy your killer tv commercial while watching the news in the luxury of their own home. For more technical details, please contact Visionair Media, we can produce, distribute and broadcast your next television commercial.